Harvesters Visit The Bishop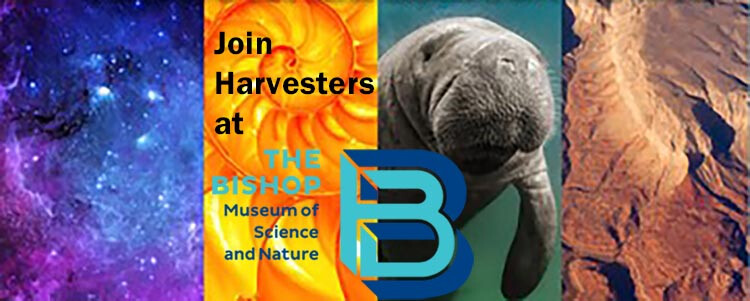 Thursday, September 22, 2022, 11:30 AM - 3:00 PM
Did you know that Bradenton is home to the largest natural and cultural history museum on Florida's Gulf Coast? It is the Bishop Museum of Science and Nature, located in downtown Bradenton. The Bishop offers engaging exhibits as well as educational programs which interpret the scientific and cultural knowledge of Florida, the world, and our universe. In addition to the permanent exhibits, the museum features a constantly changing lineup of temporary exhibitions – offering something new to discover with each visit. Over the past several years, the Bishop has undergone major renovations and additions to it facility enhancing the visitor's experience.
Reservations have been made for the Harvesters to have a two-hour guided tour of the museum on Thursday afternoon, September 22, beginning at 1 PM PM. Cost of the tour is $15/per person and includes:
a docent led tour of the highlights of the museum exhibits
an astronomy show at the Planetarium featuring the new state-of-the-art projection system
the newly renovated Parker Manatee Rehabilitation Habitat, a Stage 2 facility which allows the manatees to begin their transition back to the wild
time to enjoy the museum at your leisure when the tour is completed
The afternoon promises to be a great learning adventure providing a look into Florida's history, nature and the universe beyond!
Lunch reservations have been made for 11:30 AM at Mattison's Riverwalk Grill. Cost of the meal will be on your own. So that the Harvesters can be accommodated in a timely manner, we will be ordering from a limited menu. There will be a place during registration to indicate if you will be joining the group for lunch.
Registration deadline is Sunday, September 18. If you have any questions, please feel free to contact Harvesters (click here).