SERVE AT McNEAL ELEMENTARY SCHOOL
Read with a McNeal Elementary School Child
Most children whose families live at Falkner Farm go to McNeal Elementary School on Lorraine Road in Lakewood Ranch. Some of those students need your help in becoming better readers and achieving their full potential. In the new year, will you commit to read with one of them for an hour a week at McNeal? If so, contact Harvest member and McNeal 4th grade teacher Mindy Swartling via email.
While you're serving at McNeal, you'll see in action a donation that Harvest recently made to the school. Harvest donated 100 Amazon Fire 7 kids' tablets that the McNeal staff will use with Falkner students to help them become better readers. The donation's goal is to enhance the education of Falkner children by providing access to technology that will help ensure they have opportunities for success alongside their peers.
SERVE AT SAMOSET ELEMENTARY SCHOOL
The people of Harvest serve the children and teachers of the school in lots of ways.
BECOME A READING PAL at SAMOSET ELEMENTARY
We have two training opportunities:
August 27 @ 9-11 AM at United Way Suncoast OR
September 5 @ 1-3 PM at Harvest.
Send questions and RSVP to Jessica Maxon-Berrier.
Click here to learn more about Reading Pals
---
Serve the Children of Samoset by Volunteering in the Classroom
The people of Harvest serve the children and teachers of the school by reading to the children and helping with math, art, writing and science. You can also be a mentor to a child and meet with them during their lunchtime. Teachers also need help with special projects. There are many opportunities to work directly with the children.
Contact: Sara Kasten


---
Pack a Pantry
Pack-A-Pantry volunteers will gather food donated at Harvest's food drive every third Sunday of each month. Then on either Monday or Tuesday, they deliver the food to Samoset Elementary School and put it on the shelves in the pantry. In addition, you will also have to occasionally go to The Food Bank of Manatee to get additional food. You will need to be able to do some lifting of the boxes of food.
---
Annual Book Fair at Samoset

As part of its partnership with Samoset, Harvest funds the school's annual Scholastic book fair and provides volunteers to serve the kids while they "shop" at the fair. The fair is usually held in the spring. Stay tuned for info about each year's book fair.
In the words of one of our Samoset ministry volunteer leaders: "Thank you again for your willingness to help with this very important project that gets books into the hands and homes of our Samoset community children. Their faces tell the story of their joy when they get to choose an age-appropriate book of their very own! Priceless!!"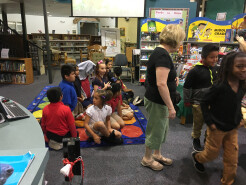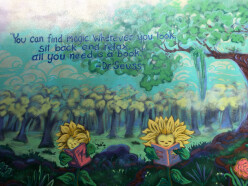 ---
Pack-A-Sack
This ministry provides over 125 chronically hungry Samoset students with bags (or "sacks") of food each Friday during the school year to be eaten over the weekend. Research demonstrates that hunger inhibits a child's ability to concentrate on schoolwork. By providing nutritional food over the weekend, Harvest hopes to both alleviate hunger and help these children excel in school.
The Harvest Pack-A-Sack ministry packs and delivers individual servings of nutritious foods with pop-tops or other packaging that could easily be opened by a small child. The program is supported through the generosity of the congregation, including donations of food items or tax-deductible financial contributions.
Contact: Brian Harrison
The following items are the Pack-a-Sack "master menu":
*Pasta or Mac & Cheese tubs (easy open)
*Applesauce or Fruit cups (no sugar added)
*Pudding cups
*Cheese Crackers (filled w/cheese or PB)
*Cereals (boxed, individual)
*Breakfast bars (or granola bars)
*Fruit Juice (no sugar added, boxes)