Lunch with Angola Missionaries
Harvest supports Cuban Methodist missionaries Leo and Cleivy Garcia (pictured below) and the children of Quessua, Angola with our prayers and financial gifts. The Garcias will worship with us on Feb. 25. Join the Garcias for a Cuban-style lunch at 11:45 that day to learn how God is using Harvest's gifts to save and change lives in Angola. Lunch is $10.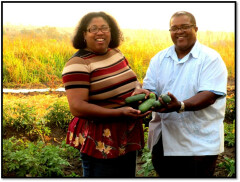 ---
---
A Visit From Angola
Cuban Methodist pastors Leo and Cleivy Garcia strengthened Harvest's years-long ministry with them and the people of Quessua, Angola with a visit to Harvest on Jan. 8, 2017.
Leo preached at both Harvest Lakewood Ranch services and Cleivy preached at Harvest Bayshore. Four dozen Harvest folks enjoyed lunch and learned more about the partnership and the Garcias' ministry in Quessua at a gathering after Sunday's services.
Harvest surprised Leo and Cleivy with the good news that half of the 2016 Christmas Eve offering ($14,000) will be invested in feeding hungry children in Quessua and providing college scholarships for promising Quessua high-schoolers. Harvest will also provide $2,500 in 2017 to support Leo and Cleivy as missionaries in Quessua.


---
Harvest Returns to Angola
For years, Harvest has partnered with our United Methodist brothers and sisters in Florida and Quessua – near Malange, Angola – to help that area of the African country re-build after a 27-year civil war ended in 2002 and to share Christ's love with its people. As part of the Florida Conference of the United Methodist Church's partnership with the East Angola Conference, Harvest has sent five missions teams to Angola in the past eight years.


October 2016 Trip
A three-person Harvest team (Mike Baker, Tracey Nickens and Tiona Wilson) traveled to Quessua in October 2016 to continue ministering with the people there, particularly the boys and girls who live in the Methodist-run boardinghouses in that community. Many of the children lost their parents in the civil war and other tragedies, and others come from extremely difficult life circumstances. The team deepened Harvest's and the Florida Conference's relationships with these young people of Quessua, and delivered food aid. This team also walked alongside them in sharing the gospel of Jesus Christ with the people of surrounding communities and continuing to re-build Quessua from the civil war.
Read more about Angola: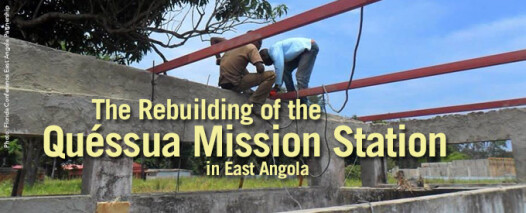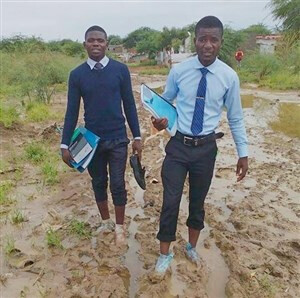 Visit HERE and click on Angola links for more info about the Florida Conference partnership with East Angola.
Fighting Hunger and Supporting Education in Angola
The East Angola Conference of the United Methodist Church operates the Internato Masculino (boys) and Internato Feminina (girls) student boarding houses in Quessua and Malanje, Angola. The residents of these boarding houses range in age from ten to their early twenties. All are there to receive an education. Many are orphans or have experienced many difficulties in life.

Harvest's mission teams have invested considerable time getting to know these young people and helping them improve life in Quessua. All of the young people are passionate about obtaining an education and becoming leaders in their churches, communities, and Angola.

The Florida-East Angola Conference partnership places a strong emphasis on supporting education in Angola. Harvest has the opportunity to participate in this effort and continue our relationship with these students by supporting the operating expenses of the boarding houses. The major operating expense is food. It is hard for students to learn when they are hungry, and these students often receive only one meal a day. One dollar per day will provide basic nutrition for one student

If you feel called to participate in this ministry, please make a check out to Harvest and mark the memo or the envelope "Angola Mission" and place it in an offering box at worship or drop it by the church office.