Samoset & Abel Elementary Schools

At Harvest, loving our neighbor is a key fundamental belief. The people of Harvest have been turning our love outward by serving students and teachers of Samoset Elementary School and Abel Elementary School in Manatee County.

2023-2024 School Supplies Drive
For the 2023-2024 school year, Harvest collected school supplies to be delivered to the teachers at our school partners. Teachers will then assess which students may need school supplies and then distribute the supplies to those students. Below are just a few snapshots of the volunteers, of all ages, who served this ministry by sorting the supplies to get them ready for delivery to the schools!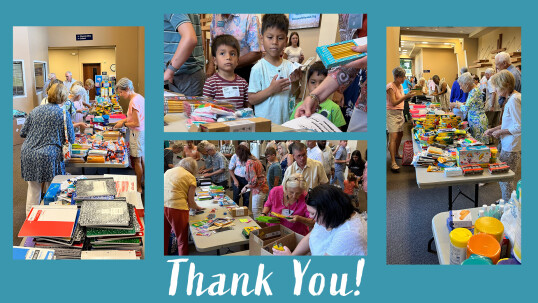 Classroom Assistance
Harvest volunteers are a consistent presence in the lives of the students by providing students with extra attention so they can achieve their full potential. Volunteers serve children and assist teachers in the classroom with reading, math, writing and science, or other special projects.  There are many opportunities to work directly with the children.

Reading Programs
Each week volunteers read a new book and use sight word activities for kindergarten students. Students in grades 1 through 3 are provided individualized support so they can catch up or stay on track academically and gain self-confidence in their academic potential. These initiatives focus on helping students who struggle with sight word recognition, reading fluency and comprehension.
Pack-A-Sack and Pack-A-Pantry Ministries

The generous support of the Harvest congregation sustains two food-related ministries, Pack-A-Sack and Pack-A-Pantry, to both our partner schools. Food donations and financial contributions support both initiatives making a big difference to those facing constant food insecurity. 
Pack-A-Sack – Each week over 125 food-insecure Samoset students receive a sack of food to be consumed over the weekend.  Suggested food items are individual servings of food with pop-tops or other packaging that could easily be opened by a small child:

Pudding Cups
Pasta or Mac & Cheese
Applesauce or Fruit Cups (prefer no sugar added)
Cheese or Peanut Butter Crackers
Cereals (boxed, no oatmeal)
Breakfast or Granola Bars
Fruit Juice (prefer no sugar added, boxes, no Capsun)
Pack-A-Pantry – Food donations are delivered to regularly to Abel and Samoset to be distributed to families who may be struggling to put food on the table. Need food items include:
Rice - preferably white
Pasta - preferably not whole wheat
Breakfast Cereal
Canned or Dried Beans
Canned Vegetables, Fruits, Tomatoes or Tomato Sauce
Canned Chicken and Tuna
Boxed Macaroni & Cheese
Pancake Mix and Syrup
Want to donate food? Bring your donation to worship with you! On the third Sunday of each month Harvest collects food but we will accept donations any Sunday. Or, drop off donations Mondays through Thursdays at the church office.

Financial Contributions
As part of its partnership with our partner schools, Harvest frequently provides financial donations for teachers to purchase needed classroom and student supplies. Harvest also funds one of the school's book fair and provides volunteers to serve the kids while they "shop" at the fair.
In the words of one of our Samoset ministry volunteer leaders: "Thank you again for your willingness to help with this very important project that gets books into the hands and homes of our Samoset community children.  Their faces tell the story of their joy when they get to choose an age-appropriate book of their very own!  Priceless!!"
Questions? Contact Diane McCoy, Director of Care & Justice Ministries.
---------------------------------------------
Take Stock In Children Of Manatee
Harvest supports Take Stock in Children, Inc., a nonprofit organization, that transforms one student at a time with financial contributions and mentors. Take Stock's mission is to break the cycle of poverty for low-income, academically qualified students by providing opportunities for a post-secondary education. Volunteers from Harvest mentor middle school through high school students, some of whom attended Abel or Samoset Elementary Schools.
Want to be a mentor? Email Diane McCoy, Director of Care & Justice Ministries.