One Worship Gathering - June 5 to August 7 - 10 AM
Harvest is changing up our worship schedule for the summer by offering one worship gathering from June 5 through August 7 at 10 AM. Our Summer Together will be a time to share God's love and awesomeness while building new relationships and strengthening existing friendships!
As we transition between pastors, we look forward to gathering together at one time each week for worship. This Summer Together worship schedule will give us a chance to:
Be in fellowship with people we don't normally see on Sunday morning.
Build a stronger community for adults and within the Harvest Kids ministry.
All the things we love about worship at Harvest will be included in our Summer Together worship gatherings. Gatherings will include:
Celebrating communion.
Singing familiar hymns and contemporary worship songs.
Enjoying refreshments before and after worship.
There are some fun events planned for everyone of all ages during our Summer Together! Be sure to save these dates and mark your calendars so you don't miss out on making Connections. Watch for more information on the website and in the HarvestE newsletter.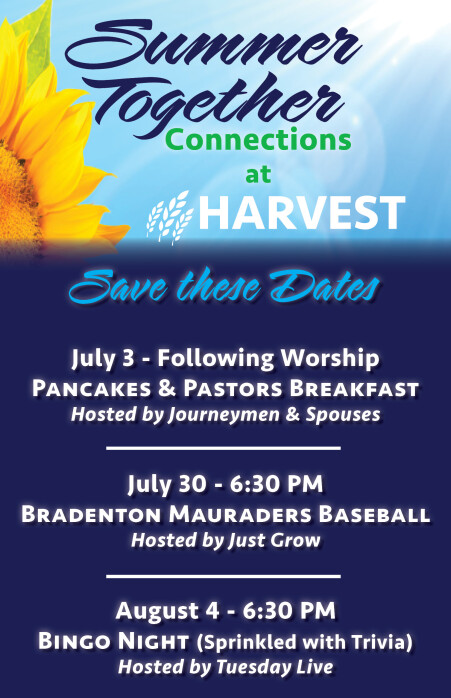 We will continue to gather in person at the Harvest campus and online at WelcomeToHarvest.org.
Questions? Send us an email.