Just Grow is a nurturing and inclusive environment where your child finds a place to thrive in what's most important - growing confidence, making friends, and gaining the skills to navigate the everyday challenges of life.
Harvest Preschool Update from Harvest UMC on Vimeo.
Who We Are: Just Grow is a place where play meets problem solving, where friendships are born, and children and families thrive. We are hugs and high fives. We are superheroes, big and small – helpful and kind, we are turning our love outward. We fly on the swings and we run through the yard. We are made by God and loved by God. And each one of us is special, safe, and loved. We are life's messy miracles - with crayons and markers and paint and clay – our creativity combines with problem solving and play and we learn and we grow. We have big feelings, and through our laughter and tears we keep breathing and growing. As we are comforted, we learn how to manage our fears. Our every day greetings are sacred moments that build connections. We are safe-keepers and routine followers and milestone makers. We are building blocks and planting gardens; we are music and movement; scientists and scholars; we play and we pray; and grow our fine motor skills all along the way. Big and small we are committed to one another. We are the Just Grow family – we are confident, we are friends, we are problem solvers. And You are invited…We can't wait to see who you'll grow up to be. Just Grow with us!
Enrollment for Fall 2021 is now open for children ages 6 weeks - VPK
If you are interested in learning more about Just Grow please complete the interest form below or give us a call, 941-907-7333.
Just Grow is an equitable and faith-forming developmentally appropriate full-day, year-round learning environment that values the uniqueness of and care for each individual child and supports the family in raising a healthy, thriving child.
Meet our Director, Leanne Badham, M.Ed.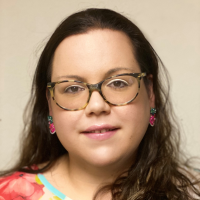 Hello!
My name is Leanne Badham, and I grew up in Naples FL, went to high school in Atlanta GA, and began my college journey in Asheville NC. I was fortunate enough to spend a year living, working, and studying abroad in Poole, England in 2008 (which is where my family is from, and I spent my summers growing up). While there I attended university and studied curriculum development and social-emotional development in young children. It was a wonderful experience, and I enjoyed the opportunity immensely.
I obtained my A.A. in Child Development and earned my Advanced Director's Credential in 2011 and have been in the field of Early Childhood Education since 2001. While I attended high school, I completed a partnership program with the junior college and received my A.S. in Business Administration the same day that I graduated from high school. I completed my bachelor's degree in 2012, and completed my master's degree in education, emphasizing Christian Education and Leadership, in the spring of 2014. I am currently enrolled in a Doctoral program to receive my Doctorate in Behavioral and Cognitive Psychology. I am a proud member of Kappa Delta Pi, Alpha Epsilon Gamma Chapter, as well a Phi Lambda Theta.
I absolutely love working with other educators and have been a certified trainer for the Office of Early Learning, The Early Coalition, and Department of Health since 2015. Collaborating, coaching and mentoring educators has become one of my biggest passions.
I have had the privilege of teaching in public and private schools, working with children and youth of all ages from birth to high school. As Nelson Mandela once said, "Education is the most powerful weapon which you can use to change the world".
I believe that education is a lifelong journey, that begins during the earliest stages of life. With each new experience, we learn and grow as individuals. I have seen firsthand the importance of early childhood development, and the role that a positive learning environment plays in the growth of children. My personal philosophy centers on a holistic approach to education, focusing on the "whole" child. Access to quality care and education should be available to all children in all communities.
My faith is also a large part of my life, and has helped to shape who I am. I grew up attending youth groups and camps and volunteering as soon as I was old enough. My previous ministry included leading Sunday School programs, VBS, and weekday Bible School. I sincerely look forward to not just joining the Harvest team, but also the Harvest church family and congregation.
In my free time, I enjoy going to the movies, being outdoors, writing, traveling, ANYTHING Disney, and volunteering my time (my other greatest passion). I am also an avid reader and can usually be found wondering a book shop when I am not at work!

Harvest has invested in the next generation of children in Manatee and Sarasota Counties for 13 years. Offering high-quality education for the whole child, Sprouts Child Development Center nurtured a generation. At Sprouts Child Development Center, little ones grew in faith, education, and friendship. Just Grow expands the vision of Sprouts for the next generation of families.