TuesdayLIVE!
TuesdayLIVE! meets every Tuesday from 9-11:30 a.m. during the school year to study the Bible and to learn from each other, to support and care for each other and ultimately to grow closer to God. Our meeting includes a brunch, devotions and prayer, and small group discussions about our study. TuesdayLIVE! is open to all women.


---
TuesdayLIVE! - Spring 2018 Semester
The Miracles of Jesus
Finding God in Desperate Moments

Invite God to work powerfully in your life.

Printable registration forms are available here and at Hospitality Hub 1. The 2018 Spring session begins Jan. 16 and ends April 10.
Contact TuesdayLIVE! leader Cindy Byce for more info:
941-351-0092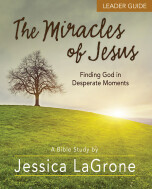 Jesus demonstrated the presence and power of God by performing miracles. He turned water into wine, healed the sick, calmed the storm, opened blind eyes, and raised the dead. While these beloved stories draw our attention to divine power, they also have something else in common: human desperation. Every time we see Jesus performing a miracle, we also get a glimpse into the gift of desperation, a gift that opens us to the dramatic power of God through our desperate need for him.
In this Bible study, Jessica LaGrone leads us in a captivating exploration of the miracles of Jesus, helping us to see that our weakness is an invitation for God to work powerfully in our lives and reminding us that we need God on our best days just as much as we do on our worst.
Themes and miracle stories include:
the gift of desperation (turning water into wine and other signs of God's response of fullness in our times of emptiness)
the miracle of abundance (feeding the 5,000 and other abundance stories)
miracles on the water (calming the storm, walking on water, the abundant catch)
Jesus our healer (5 stories of healing)
death and resurrection (Lazarus, Jairus' daughter)
the miracle we all receive (the Incarnation)