TuesdayLIVE!
TuesdayLIVE! meets every Tuesday from 9:30a.m.-12 noon during the school year to study the Bible and to learn from each other, to support and care for each other and ultimately to grow closer to God. Our meeting includes a brunch, devotions and prayer, and small group discussions about our study. TuesdayLIVE! is open to all women.

---
TuesdayLIVE! - Fall 2018 Semester
Finding I Am by Lisa TerKeurst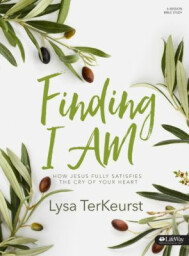 Printable registration forms are available here and at Hospitality Hub 1. The 2018 fall session begins Sept. 11 and ends Dec. 11.
Contact TuesdayLIVE! leader Cindy Byce for more info:
941-351-0092

FINDING I AM
What is the deep cry of your heart?
That ache in your soul that keeps you up at night? The prayer you keep repeating? Jesus not only cares about this deep, spiritual wrestling, but he also wants to step in and see you through it.
Join Lysa TerKeurst on the streets of Israel to explore the seven I AM statements of Jesus found in the Gospel of John. Through this interactive, in-depth study, you will learn to:
Trade feelings of emptiness and depletion for a more personal fulfillment from knowing who Jesus is.
Stop living like a slave to your circumstances by training your heart to embrace the life-giving freedom God wants for you.
Gain a better understanding of how Jesus' words 2,000 years ago are so very applicable to the answers we are searching for today.