Spring 2018 - Small Groups
Questions? Email Mike Kennedy or call him at 941-907-7333. Sign up for a group by emailing Mike.
Creed: What Christians Believe and Why - Exploring the Apostles' Creed

Two Creed group options:
Wednesdays, 6:45-7:45 p.m.
Length: 6 weeks
Start Date: Feb. 21, 2018
End Date: March 28, 2018
Book Cost: $14
Leader: Ken Cerny
Location: Room W202 at Harvest.
Email Mike Kennedy to register.
Fridays, 7:30-9:00 a.m. (Journeymen - Friday morning men's bible study)
Length: 7 weeks
Start Date: Feb. 16, 2018
End Date: March 30
Leaders: Dennis Larson and Gary Lewis
Location: IHOP Restaurant at 6320 State Road 64 East, Bradenton, FL 34208.
No need to register - simply show up and introduce yourself to Dennis or Gary.
Creed Book Description:
We're used to answers popping up on a screen right in front of us. But when the questions examine the truths that give meaning and purpose to life, finding the answers takes more than simply typing a few words and pushing a button. Adam Hamilton believes that powerful answers to many of our complicated questions are contained in the Apostles' Creed, an early statement of foundational Christian beliefs. In Creed, he explores not only what Christians believe, but also why they believe, and why it matters, which in turn leads readers to confront and examine their own core beliefs and go beyond reciting the Creed's familiar words.
Harvest's Lent message series: "Believe"
"We're all searching. Sometimes the search is easy. But sometimes our questions are complicated and the answers are difficult to see and even harder to articulate. In this series of messages, we explore the essential beliefs of the Christian faith and why these beliefs matter. If you are looking for answers to tough questions or wondering if faith really matters, join us as we search together for truth."
---
Where Moms Connect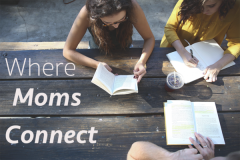 Where Moms Connect is a small group of women that meets every Wednesday to grow in their relationship with the Lord and one another. ALL are welcome to attend. Whether your child is 30 months or 30 years old, we hope you will join us!
WMC meets every Wednesday from 9-11:00 AM in room W206. Child care is offered in room W101. Contact Jeanette Conley or call her at 813-263-2985 with questions.
---
A Disciple's Path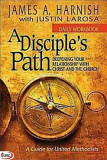 A Disciple's Path is an engaging approach to discipleship from a distinctly Wesleyan perspective. Designed primarily as an introduction for people desiring to join Harvest as members, it guides individuals to take the next step in discipleship and become dynamic, engaged followers of Jesus Christ. The study combines a Wesleyan understanding of our growth in God's love and grace with the time-tested practices of spiritual discipline expressed in the membership vows to uphold the church with our prayers, presence, gifts, service, and witness. Participants will develop spiritual practices, discover their unique gifts, and become engaged in ministry that brings transformation in their own lives, the lives of others, and the world.
Sundays, 9:00-10:00 a.m.
Length: 7 weeks
Start Date: Jan. 21, 2018
End Date: March 4
Book Cost: $0
Leaders: Mike Kennedy, Tara Poulton and Nina Willingham
---
Make a Difference: Following Your Passion and Finding Your Place to Serve
by Jim Harnish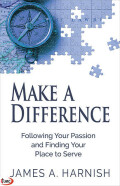 As Christians — United Methodists — we are called to "make disciples of Jesus Christ for the transformation of the world." It's a grand mission — so grand, in fact, that it's sometimes hard to know what we're supposed to do. How can we help transform the world? Make a Difference draws upon biblical wisdom to provide practical guidance to help disciples connect their passion with the world's great need. Real stories of how real people found their place to serve will inspire and encourage you to do the same.
Wednesdays, 6:45-7:45 p.m.
Length: 7 weeks
Start Date: Jan. 24, 2018
End Date: March 14
Note: Group will not meet on Ash Wednesday (Feb. 14).
Book Cost: $11
Leaders: Gerry den Boggende and Diane McCoy
---
What the Prayers of Jesus Tell Us About the Heart of God
by Shane Stanford

Even little children can be heard reciting The Lord's Prayer during a service — most Christians know it by heart. Although it is the "prayer Jesus taught us to pray," the New Testament gives us other specific examples of the words Jesus prayed. Studying these prayers reminds us of the personal and profound nature of the Trinity, shows us God's great love for his people, allows us to marvel at the magnitude of Jesus' sacrifice, and helps us prayerfully communicate with our God. Learn how Jesus' prayers inform and engage his intentions of how the gospel would change lives and affect the world, both in the first century and for every century to follow.
Wednesdays, 6:45-7:45 p.m.
Length: 6 weeks
Start Date: Jan. 24, 2018
End Date: March 7
Note: Group will not meet on Ash Wednesday (Feb. 14).
Book Cost: $11
Leader(s): Bob and Mary Stark
---
Sunday School
We have ongoing adult Sunday School classes that meet every Sunday morning during both services. For more info, contact the leaders via the links below: